Drug lord's brother plans to sue Apple, ex-Apple engineer had missile documents, and more from the world of Apple-related crime.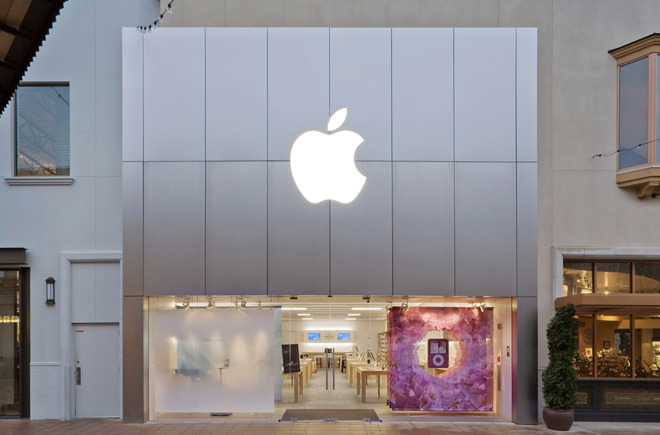 The Bridgeport Village Apple Store in Oregon
The latest in an occasional AppleInsider series, looking at the world of crime involving Apple products.
Over $100,000 in iPhones stolen from car
Police in Oregon say an uncommonly large cache of iPhones —worth $115,000 —were stolen from a woman's car outside the Bridgeport Village Shopping Center in suburban Portland on December 8. According to Oregon Live, the theft took place while the owner of the car shopped at a nearby Apple Store.
Police say a man and woman broke a window in the car and took the iPhones.
Charged Apple engineer had Patriot missile file
Jizhong Chen, the former Apple engineer who was indicted earlier this year for stealing trade secrets, also was in possession of a classified file from the Defense Department's Patriot missile program. According to The Boston Globe Chen, who had been working on Apple's self-driving car initiative, had kept the documents in his home, adding national security implications to his case.
100 iPhones stolen from South Carolina Best Buy
Around a hundred iPhones, worth over $1,000, were stolen from a Best Buy in Summerville, S.C., overnight on Monday. According to The Post and Courier, police arrived at 2:18 a.m. to discover "two open cabinets and iPhone boxes scattered on the ground."
Surveillance video showed that three men wearing hoodies and dark clothing had opened the cabinet using a "Hyper Tough"-brand crowbar.
iPad with pastor's sermons stolen from Georgia church
Police in Hapeville, Ga., have identified a man who they say stole an iPad from an area church, which contained the pastor's past and future sermons. According to Fox 5 Atlanta, the items were stolen in November while Rev. James Pullin was delivering one such sermon.
Brother of Pablo Escobar launches gold Phone promises to sue Apple
We told you back in February about an effort by the daughter of imprisoned Mexican drug kingpin Joaquin "El Chapo" Guzman to sell El Chapo-branded iPhone accessories. Now, the relative of another notorious drug lord is planning a similar play.
Roberto Escobar, the brother of the late Colombian drug lord Pablo Escobar, has announced the launch of a foldable gold smartphone which he claims is "unbreakable." According to Sky, the phones feature Pablo Escobar's mug shot as a default screen background, while advertisements from the device sport "scantily dressed models in heels." And not only is Roberto planning to compete with the iPhone, but he also announced plans to sue Apple for $30 billion, for "cheating the people and selling worthless phones."
Oklahoma man accused of embezzling iPhones
A 33-year-old Oklahoma man has been accused of stealing $200,000 worth of iPhones from a Best Buy distribution center where he was working.
According to KXII, the accused thief is out of jail on a $2,500 bond.
Woman arrested for false iPhone purchases
A New Jersey woman was arrested in Connecticut for attempting to buy three iPhones from a Verizon store with a false ID. According to Patch, the woman tried to buy two iPhone 11 Pros and an iPhone 11 Pro Max with what store employees recognized as a fake ID, at which point they contacted the account holder, who was not the woman.
She was charged with two counts of third-degree identity theft, two counts of sixth-degree larceny, credit card theft, second-degree forgery and attempt to commit third-degree larceny.
Two charged in Walmart iPhone scheme
Two people in Indiana have been charged for their parts in an iPhone theft scheme. According to the Journal Gazette, one of the accused conspirators executed the scheme with the help of the other, a Walmart employee, and together they purchased phones by creating fake accounts for false customers. They then sold the phones, making a total of around $15,000.
One of the arrestees was charged with forgery, fraud and theft and one count of corrupt business influence and misdemeanor resisting law enforcement, while the other was charged with 11 counts of fraud and one count of corrupt business influence.
Wave of iPhone robberies in The Bronx
A crew operating in the New York City borough of The Bronx has stolen more than a dozen iPhones directly from people's hands and back pockets. According to CBS New York, the people executing the thefts are between 15 and 18 years old.
Police using iPads in "bait boxes" to catch package thieves
Police departments in the Seattle area, seeking to deal with the problem with package theft heading into the holidays, have begun placing "bait boxes" in front of homes, complete with iPads that help track the false packages. According to Q13, police have already successfully used the tactic on four occasions.
Have an Apple crime story for us? Email AppleInsider and tell us about it.