CES has always included a high number of accessory producers showing off add-ons for iPhones, iPads, and other devices, and this year is no exception. Here is AppleInsider's list of notable accessories that made an appearance at the trade show.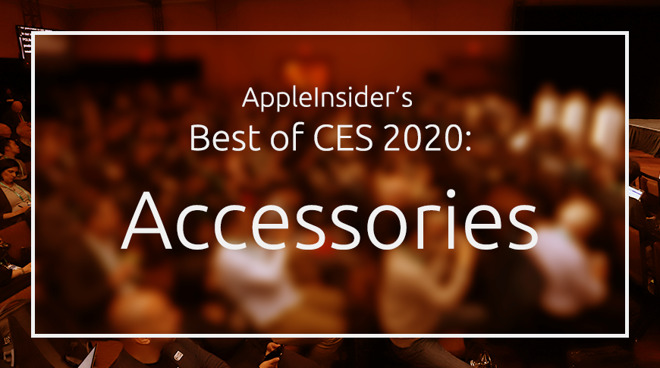 Incipio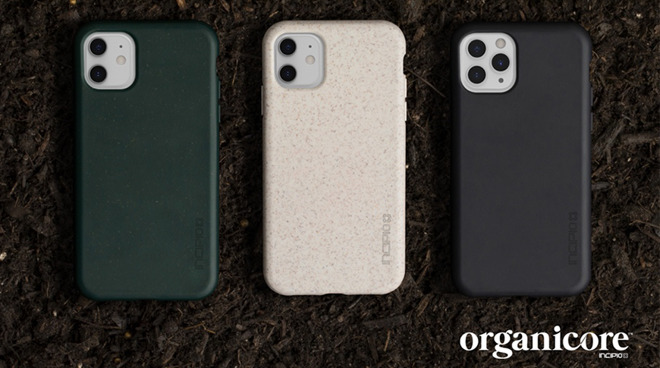 Incipio Organicore biodegradable phone cases
This year, Incipio is launching a new line of plant-based iPhone cases that are entirely compostable when they are no longer needed.
The new lineup supports the iPhone 11, iPhone 11 Pro, and iPhone 11 Pro Max and are manufactured with Organicore, a 100% biodegradable material when composted.
"As a leader in device protection, we recognized a need to bring eco-conscious solutions with proven protection to the category," said Brian Stech, CEO of Incipio. "By introducing a 100% compostable alternative to the market, backed by more than 20 years of industry expertise, we are able to provide a wide range of consumers with a slim, protective and quality case option that better serves the planet and our future — so everyone can do their part."
In a composting environment, the Organicore cases can break down in as little as six months. They are able to withstand drops from as high as six feet, support wireless charging, and come in Oatmeal Beige, Stone Gray, Black, and Deep Pine Green.
The cases are available now and retail for $39.99. Incipio says Organicore cases for AirPods, tablets, and other devices will launch in the coming months.
Mophie
The Mopie Powerstation Go is a universal battery that can provide a fair bit more than a normal power bank can offer to users. Mainly, it is capable of providing a jump start to any SUV or full-sized card via its included mini jumper cables.
Providing a giant 44,400mWh of power, the portable unit provides more than enough power to give a boost to a vehicle with a flat battery, though it is also able to be used for more typical purposes as well.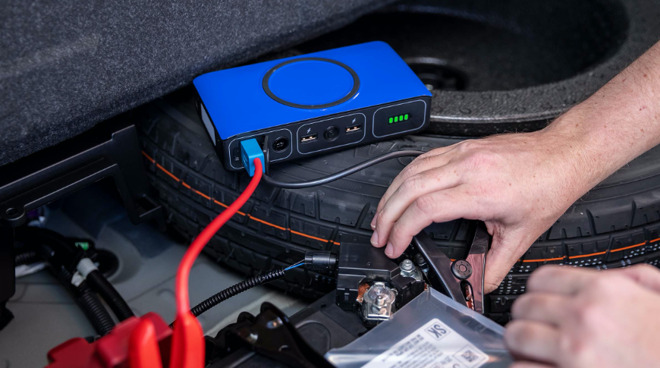 Mophie Powerstation Go
Using dual 2.4A USB-A ports, it can be used to charge two devices at the same time, while the top surface is able to provide wireless charging to any Qi-enabled device at up to 5W. An included 115V AC output is also available for charging notebooks and powering other devices, outputting at up to 65 Watts.
Even though it can hold enough power to jumpstart a car, the unit is still lightweight and portable, able to be held in a bag or stored in a glove compartment. As with many other power banks, it also offer an LED flashlight.
The Mophie Powerstation Go is available now on HSN.com for $159.95, and from Mophie's website from January 9. The power bank is available in a variety of colors, including Onyx, Cobalt, Flamingo, Camo, Sapphire, and Gold options.
Gear4
Releasing in February, Gear4 is dropping two brand new cases —the Battersea and the Brompton —to keep your 10.2″ iPad safe from drops, bumps, scuffs, and more.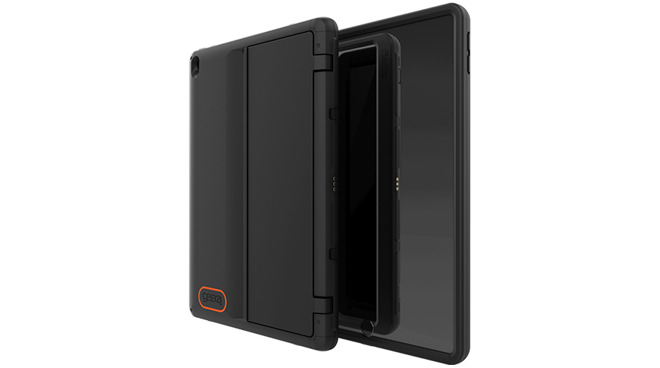 Gear4 Battersea 10.2″ iPad Case
The Battersea is an ultra-rugged case that boasts 8-foot drop protection, a built-in screen protector, and a foldable infinity angle stand. The Battersea also features D3O protection, a material used in low-profile, high-impact protection scenarios, such as lining for football helmets, military combat gear, and motorcycle safety equipment.
It's fully compatible with Apple smart keyboards, so no case switching is needed when it's time to sit down and get to work. The slim design means it fits great in messenger bags, backpacks, and is easy to hold. The Battersea iPad case is available in black, and upon release will retail for $79.99.
If you don't need quite as much protection, the Brompton is a slightly sleeker, slightly cheaper case that still gets the job done. Featuring a 6.5-foot drop protection, a three-angle movie stand, and a removable fabric folio, it's perfect for those who are looking for a bit extra protection when taking their iPad on the go.
The Brompton comes in black or rose gold, and upon release will be priced at $49.99.