Despite the global conditions, Apple continues to push ahead as it readies its new "iPhone 12," "iPhone 12 Pro," and "iPhone 12 Pro Max." Here is what rumors say so far about Apple's upcoming flagship smartphone.

Concept based on CAD images from EverythingApplePro
"iPhone 12" rumors have been swirling for some time, and have picked up pace in recent months. All of this despite the ongoing COVID-19 pandemic and the launch of the new iPhone SE
"iPhone 12" at a glance
Based on all the rumors and leaks we've seen over the past year, here are the key points we think we know about the "iPhone 12," "iPhone 12 Pro," and "iPhone 12 Pro Max."
Will be redesign to look more like a smaller iPad Pro
Shifting to 5nm for A14 Bionic processor
Possibly smaller notch for TrueDepth camera system
LiDAR added to rear camera
Will support 5G
Launch window is uncertain
May include Wi-Fi 802.11ay
What processor and Wi-Fi version does the "iPhone 12" have?
Internally, we expect quite a few changes to this year's "iPhone 12" lineup. Almost everything —including the internal layout —looks to be reworked.
The supply chain claims that Apple is shifting to a larger, rectangular battery rather than the "L" shaped model in the "iPhone 12". This may result in external changes as well —such as the relocation of the SIM card.
Crucially, the "iPhone 12" will utilize Apple's A14 Bionic processor. Apple is shifting to a new, 5nm design for the new chip which will likely bring significant improvements for power and graphics.
Another new feature that may be shown off is 802.11ay Wi-Fi. This new version of wireless connectivity has a focus on peer-to-peer connections which can reduce the burden on your network and offer increased speeds.
Wi-Fi 6, also known as 802.11ax, is just starting to pick up steam with consumers. As 802.11ay is set to finish certification this year, the backward-compatible technology may debut with Apple's iPhone in "iPhone 12," much the same as Wi-Fi 6 did.
Will the "iPhone 12 have 5G?
The latest wireless networking technology, 5G, has two discrete versions. The faster download speeds are attributed to the mmWave aspect, while other engineering improvements are also in the slower sub-6GHz implementations. Many 5G phones from other vendors only support the sub-6GHz spectrum —but it appears Apple may be significantly investing in the development of that mmWave support.
The new "iPhone 12" is widely expected to support 5G cellular on sub-6Ghz frequencies, with the high-end models also incorporating mmWave. The majority of analysts have pointed to the lower-end "iPhone 12" just supporting sub-6GHz. But, Ming-Chi Kuo says that despite other analysts rumblings, the "iPhone 12" will include support for true mmWave.
What other features will the "iPhone 12" have?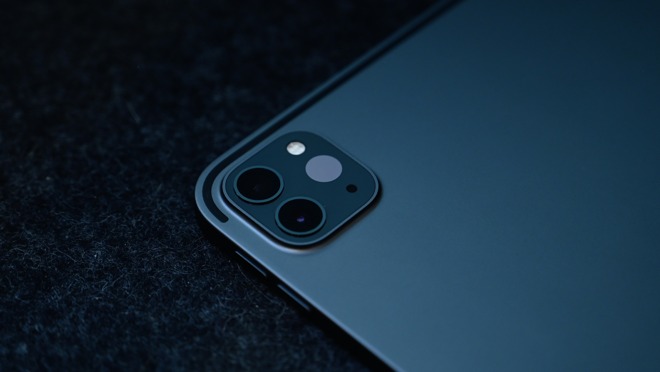 LiDAR scanner is coming to the "iPhone 12 Pro"
The "iPhone 12" also will likely bring the iPad Pro's LiDAR scanner to the iPhone. Developers got to start testing the LiDAR scanner with iPad Pro but should have some very useful applications by the time the "iPhone 12" launches with it.
Rumors say that at least the "iPhone 12 Pro" and "iPhone 12 Pro Max" will incorporate LiDAR, but there is nothing suggesting the non-pro "iPhone 12" model will support the feature.
EverythingApplePro has sources that claim that the "iPhone 12" will include speakers that are 10% to 15% louder, with an increased dynamic range.
What will the "iPhone 12" look like?
The "iPhone 12" line appears to borrow its design from the iPad Pro. Design elements carried forward include flat sides, an updated camera bump, and smaller bezels. The bezels on the front of the phone will be reduced, alongside being slightly thinner and with flat sides.
Much of the new phone's exterior was leaked and detailed in a recent video based on supposed CAD files.
An oft-requested change for Apple to make is reducing —or eliminating —the notch. Rumors say Apple is experimenting between a shorter notch and one that is narrower. Multiple sources, including a recent report by Jon Prosser corroborate the smaller notch, versus what's been presented in the iPhone X through iPhone 11.
Specifically looking at the "iPhone 12 Pro Max," it will now have a 6.7-inch display versus a 6.5-inch as on the iPhone 11 Pro Max. The phone will be slightly thinner but taller.
The edges of the phones will have increased antenna bands, likely to accommodate that new 5G network support. Apple seems to be >largely working on its own antenna technology this time around.
A new connector was shown off in leaked CAD files, likely just for the "iPhone 12 Pro" and "iPhone 12 Pro Max." EverythingApplePro says that it is a Smart Connector, but that doesn't seem to be the case.
The Smart Connector, which can currently be found on several iPad models, is made up of three small circular contacts. The connector shown off in the CAD files is a long oval shape.
It appears to be similar to the "magnetic connector" found on iPad Pro which is used to charge the Apple Pencil. The Apple Pencil currently wouldn't fit on the side of an iPhone but perhaps Apple is using it to power some other accessory.
Apple appears to be sticking with Lightning on the "iPhone 12" line. Although long-rumored, Apple moving to USB-C on the iPhone appears to not be in the cards.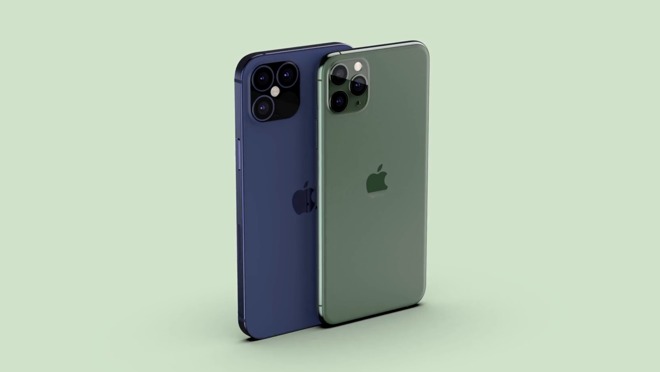 Midnight blue may replace midnight green (render from EverythingApplePro)
The "iPhone 12 Pro" and "iPhone 12 Pro Max" are being tested with a couple of shades of midnight blue. These dark blue color options are likely to replace the midnight green that launched with the iPhone 11 Pro and iPhone 11 Pro Max.
The non-pro "iPhone 12" seems likely to maintain the rounded sides and will get two of three different colors in testing. Right now Apple is testing violet, light orange, and light blue.
When will the "iPhone 12" be announced and ship?
This year, more than any other year is Apple's fall iPhone launch is in question. If history holds true, there will be an iPhone release event in September.
This year though, Apple has a global pandemic to deal with putting it into uncharted territory. Many suppliers are waiting on Apple to decide whether or not to delay the "iPhone 12" launch.
We've seen countless rumors saying production may fall behind, then more saying suppliers are denying the delay, followed by more saying "iPhone 12" will be delayed by months, before Foxconn says it is staffed up and sees no delay for "iPhone 12". We likely won't know what Apple's production plans are for months.
One true sign of Apple's plans may lie within WWDC. Apple's annual developer's conference is where Apple shows off its new operating systems and development platforms. These software updates go thorugh a rigorous months-long public beta process before launching, typically alongside a new iPhone. New iPhones contain new hardware and software features that would likely be discovered in beta releases, well before a new iPhone shows them off.
The fact Apple is still scheduling its annual worldwide developer conference for June is a good sign it is anticipating launching its new phones in the fall at some point, even it if may be a hair later than desired, like the iPhone X was.