Apple gave Siri a new look in iOS 14, but while the virtual assistant has gone through a visual refresh, it is both still very familiar to use, as well as introducing a bunch of new features. Here's how to use your iPhone's digital personality.
As Apple updates iOS with new features, changes are similarly included in Siri to make it smarter, but for iOS 14, Apple also changed its appearance. After years of filling the entire screen for a query, iPhone users will now encounter Siri as a smaller graphic at the bottom of the screen when invoked.
The change means users won't have their attention pulled away from the app they're currently using to perform a Siri query. Instead, they will be able to still see most of the screen they were looking at, with only the bottom section hidden by Siri's animation, allowing users to refer to on-screen text and images as part of their query.
While earlier results would appear as full-screen interactions, Siri has also refined how it answers queries to take up as little room on screen as possible. A notification appears at the top of the screen, providing the essential notes of the result, and potentially links to research further.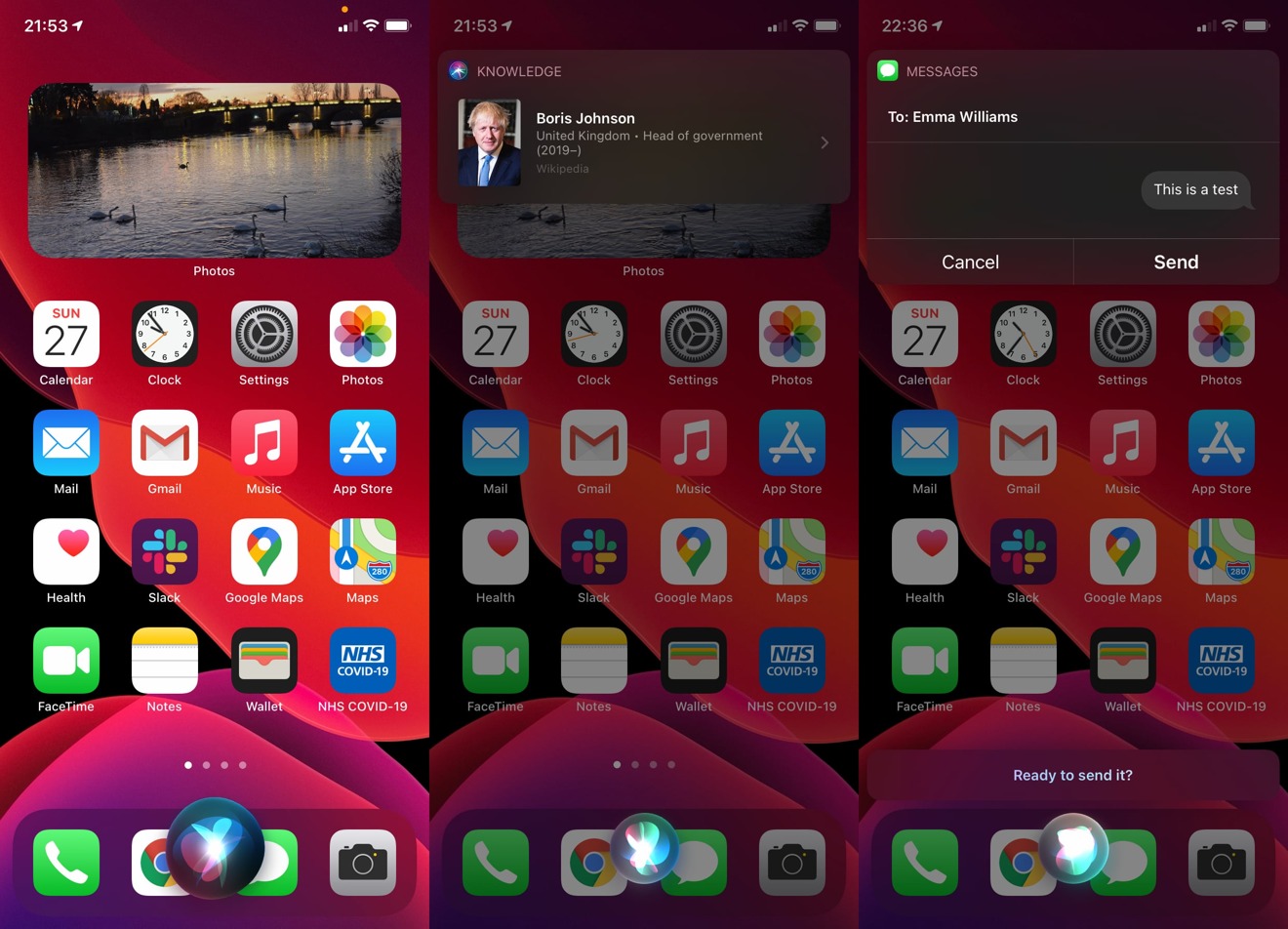 Siri's new appearance takes up less of the screen, allowing you to keep your attention on apps you're using.
How to perform a Siri query in iOS 14
If verbal triggers are enabled, start by stating "Hey Siri" followed by your query.
Alternately, hold down the Side button, the Home Button, or some iPad Pro models, the Top button, then state your query.
Stop speaking once the query is made, and Siri will automatically answer or perform the task.
If you find Siri is timing out too early, you can extend the length of time by simply holding down the Side, Top, or Home button for the duration of the query. Once finished, release the button.
Practically any and all queries that would function previously with Siri will work with the new interface, though with some visual changes to match the new interface. For example, sending a message now shows a simplified message conversation window containing your transcribed message, along with Send and Cancel buttons, so a verbal confirmation to dispatch it isn't required.
Siri Settings
If the default Siri options aren't exactly how you want Siri to function, you can make changes to adjust the virtual assistant's actions, including when it works and what apps it deals with.
How to adjust Siri in iOS 14
Open the Settings app.
Select Siri & Search.
Make changes to options for Siri, then exit the Settings app.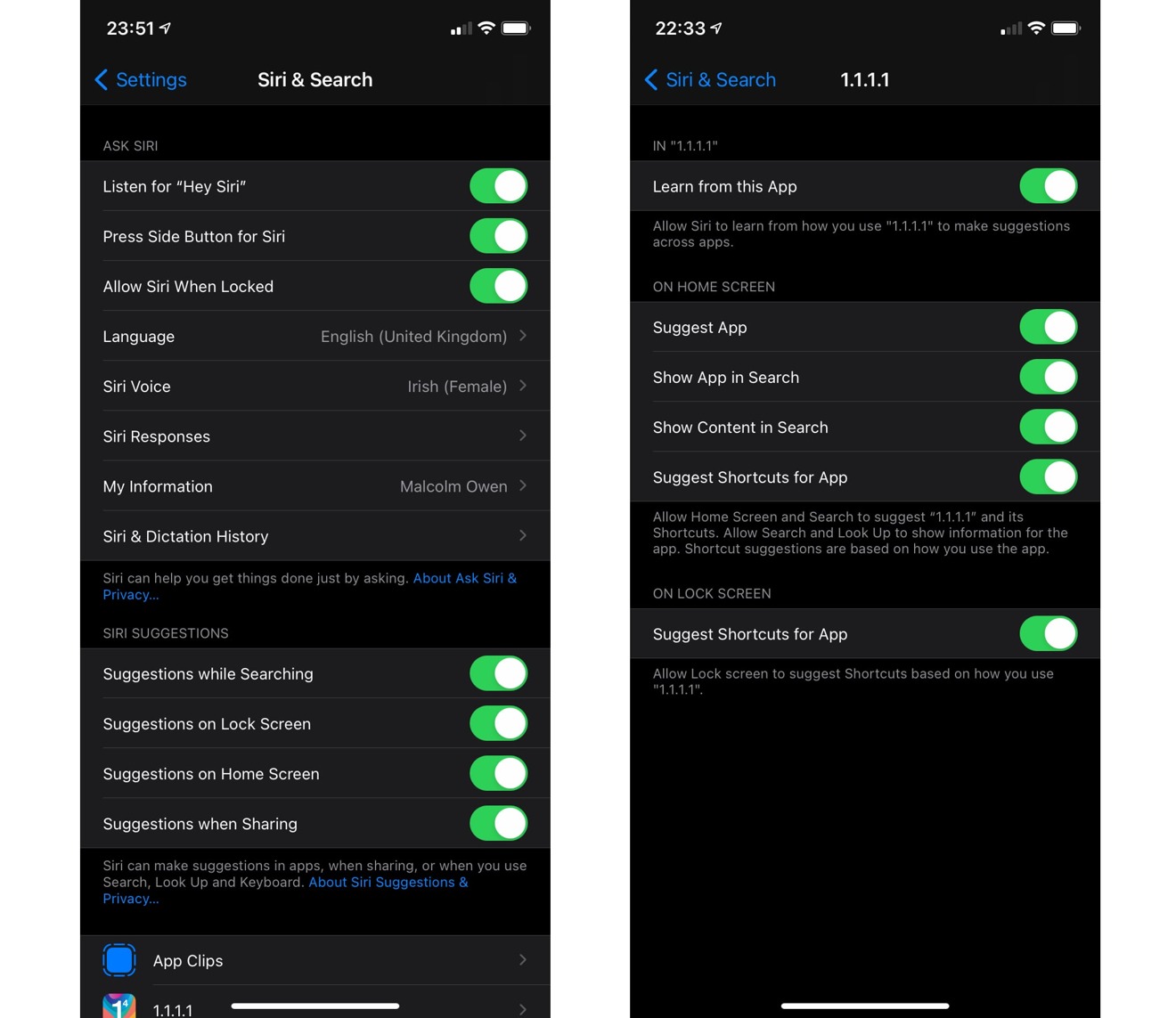 The settings for Siri are extensive.
There are quite a few options available within the menu, including setting whether the "Hey Siri" voice prompt works, if pressing buttons will summon Siri, and if Siri works when the device is locked. There are also options to change the language you speak to Siri with, Siri's accent and voice, when Siri responds vocally, whether to show transcripts of your query and Siri captions, and the ability to delete your Siri and Dictation History.
This menu also allows you identify a contact in your address book that will provide Siri with your details. This will enable Siri to know specific useful things, such as where you live or work.
Options are also available to set whether Siri will provide suggestions while searching, from the Lock Screen, the Home Screen, and when sharing content. Siri will attempt to work out relevant contacts, apps, and other items you may require in each area of iOS, and present what it thinks you may want for easier and quicker access, though this can be disabled here.
Further down the page is a list of installed apps that Siri may be able to invoke, with each able to be configured differently. The menu for each app includes whether Siri will learn from the app as part of its suggestions, whether it will suggest the app, show the app in searches, show content from the app in searches, and to suggest Siri Shortcuts for the app.
Siri Knowledge
If users want to find out more about a result, for some queries they can tap a link that takes them to a Siri Knowledge page, a full-screen version showing a variety of information about people, places, and things.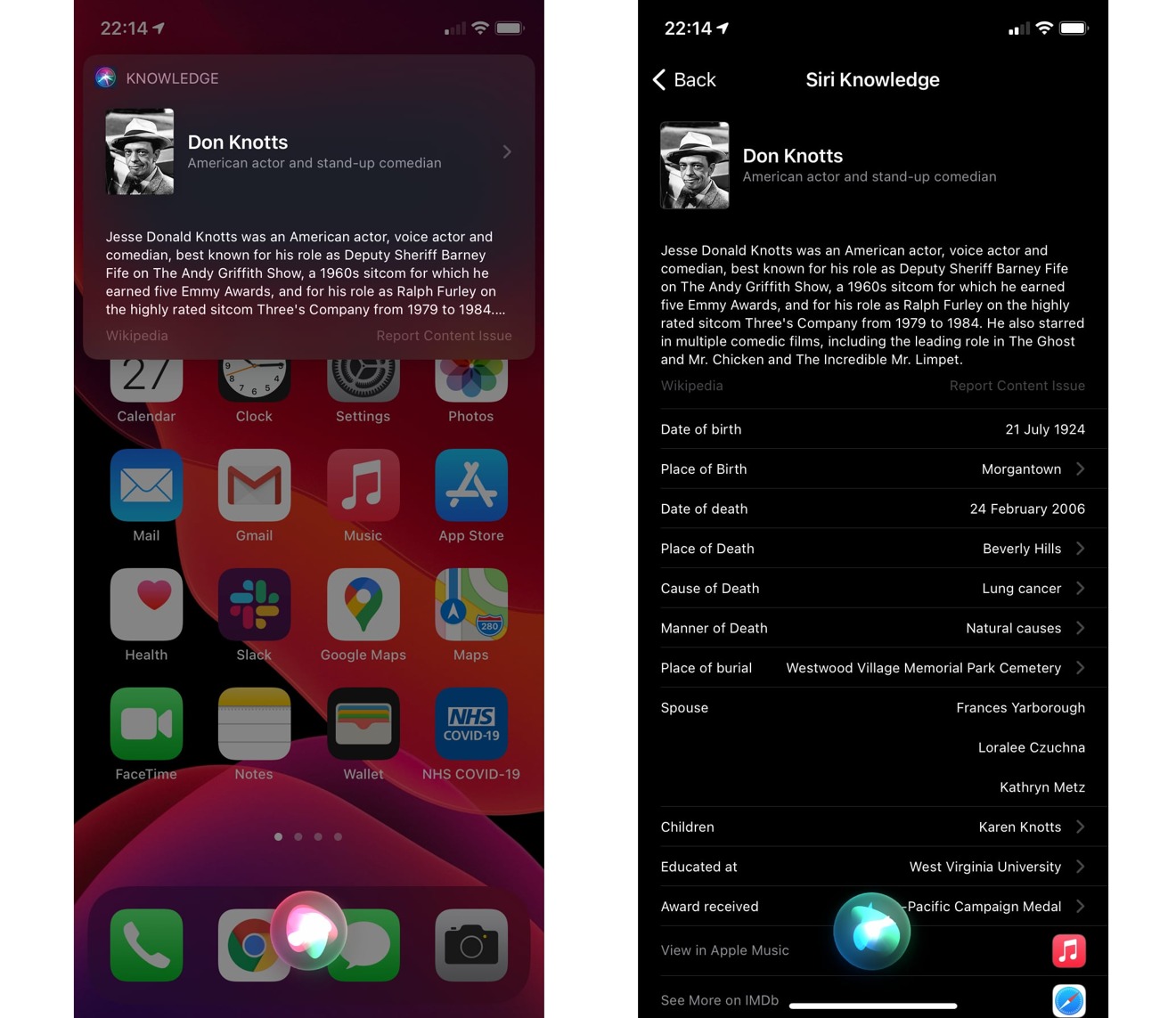 A search using Siri Knowledge results.
The elements of the Siri Knowledge page can also be tapped, to bring up a Knowledge page for that linked item. Towards the bottom are links to other sources, such as IMDB and Wikipedia pages that open in Safari, or Apple Music pages.
What can Siri do now?
Along with the compact user interface, Siri has a much larger knowledge base, with it now containing 20 times the number of facts than it did three years ago. For queries where it doesn't know the answer, its web-based answering has been improved for a broader range of questions, without actually needing to search the Internet.
As well as an improved transcription interface for messages, it is also possible to send audio messages via Siri. Users can also share their estimated time of arrival with contacts via Siri, if they are in the middle of navigating a route in Apple Maps, and can even ask Siri for cycling directions.
Language support has been enhanced, with Siri now able to translate between over 65 language pairs.
Siri's voice has also been improved with a neural text-to-speech system to sound more natural. While this was previously offered only for US English, it is now available in English for Australia, India, Ireland, South Africa, and the UK; French, German, Spanish, Mandarin Chinese, and Japanese.
Taking advantage of the new widgets functionality, a Siri Suggestions widget can learn a user's regular activity and suggest tasks based on prior usage patterns. These can be used with a tap of the suggestion, without needing to invoke Siri directly.
For users of Apple Cash Family, it is also possible to ask Siri to send money to family members by verbal command.