Learn to make your own music with the Midi Fighter 3D — a midi controller with high-quality buttons and responsive lighting — that is extremely fun to play.
The Midi Fighter 3D features a four-by-four grid of round input buttons, four sound bank buttons, and three function buttons on either side.
The pad itself is substantial — it's an inch and a half tall and weighs just over one pound. It feels incredibly sturdy, and when you're using it, the grippy feet at the bottom prevent it from sliding around, even when played enthusiastically.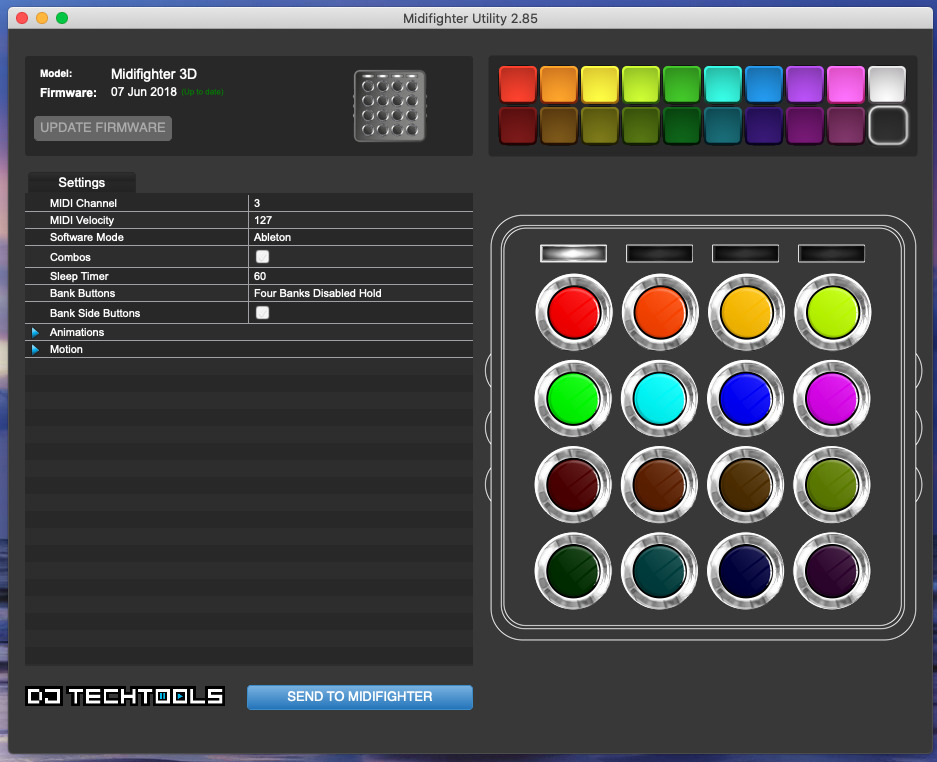 The LEDs can be configured to display a number of colors through a software utility included with the Midi Fighter 3D
The pad is equipped with LED lights as well, which makes playing the Midi Fighter 3D every bit a tool for visual art as it is a musical instrument. You can set up the lights using the free Midi Fighter Utility provided by DJ Tech Tools.
Buttons to press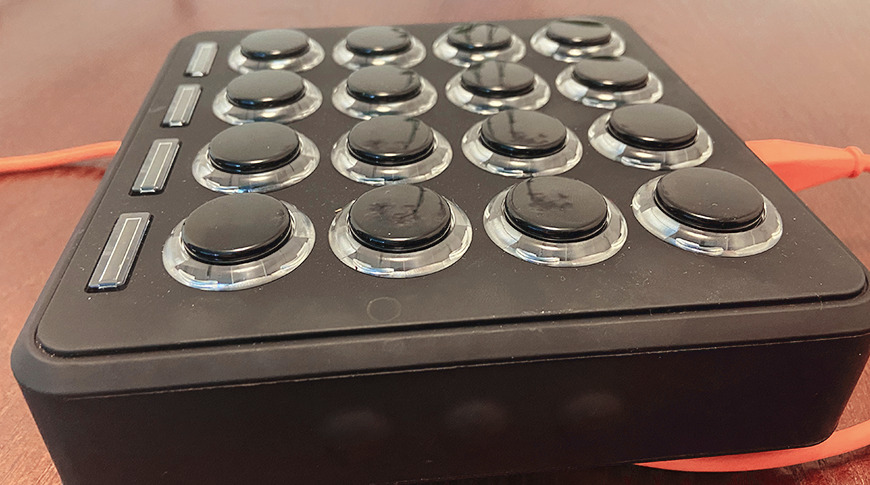 The Midi Fighter 3D's Sanwa Switches
The buttons on the Midi Fighter are the same Sanwa switches that you'll find on arcade machines and many fighting game stick setups. Because they're intended for heavy use, the Midi Fighter buttons are designed to take a beating.
Each button is rated to last over five million presses, and they are wonderfully clicky and have a surprising amount of travel.
The only potential downside is that the controller does not feature as many hotkeys or knobs as other pads. For some artists, this means that the Midi Fighter 3D may not fulfill their needs. It's not an issue for beginners and those who aren't going to need to trigger loops or swap between more than four sound banks.
Three dimensional music
You may have been wondering, "Why on earth is it called the Midi Fighter 3D?" The "3D" part refers to the fact that this is a motion-responsive tool. Musicians can pick up the controller and tilt it in four directions to achieve different effects, such as distort, echos, and more.
As a beginner, I did not find this to be a particularly useful effect. For those who are more experienced and confident than I am, it's a cool feature that can produce some fun results, and could add an extra element to live performances.
But really— how hard is it?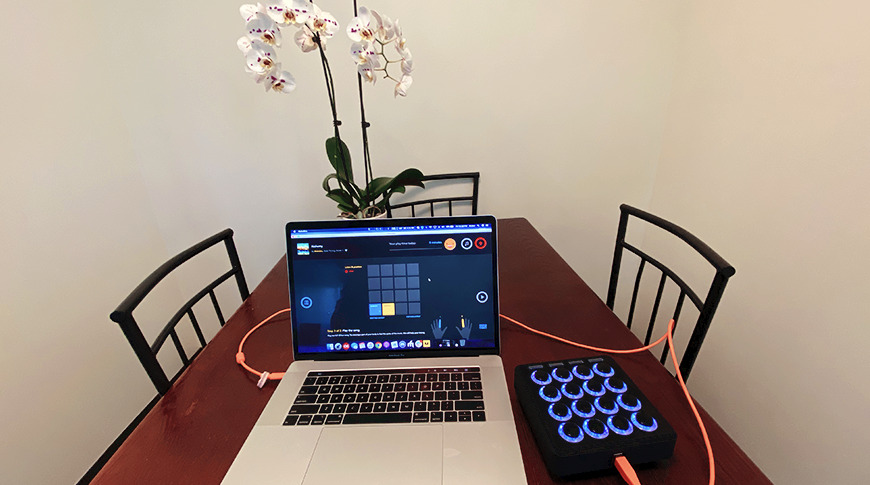 An example of what a beginners Midi Fighter setup might look like
I'm the first to admit: I'm not much of a musician, and I'm certainly not well-practiced in percussion. Having a background in music will help, and I imagine any drumming experience would be even more beneficial.
That being said, you don't need any experience to learn the Midi Fighter 3D. With enough time and patience — and let's face it, a lot of YouTube research — you'll figure it out. Like all skills, the chief investment you're going to make is time.
As silly as it sounds, it's not a bad idea to download a metronome app to your iPhone when you're getting started. The ticking of the metronome is especially helpful if you don't have much practice keeping time, which is essential for finger drumming.
My personal advice is to start slow — slower than you expect — and get a feel for how a song is constructed. As you find the patterns you like, increase the metronome's speed, and continue practicing.
You can also check out Melodics, a Guitar Hero-like program that teaches newbies how to play patterns on midi controllers.
Other musical applications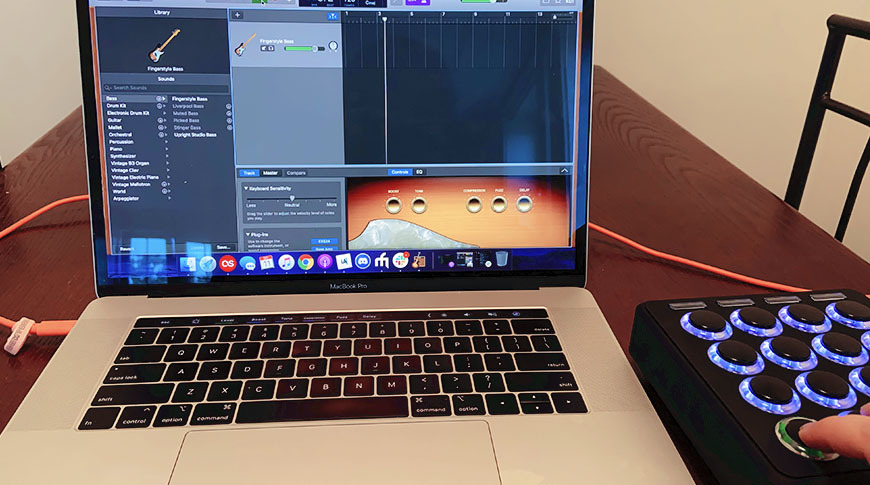 Yep, it works with GarageBand, too.
You don't need only to make EDM-style music. This is a midi controller, and as such, it can be mapped to serve any number of purposes, even those beyond music creation.
Sixteen buttons are more than enough for a drum kit setup, but again, it doesn't stop there either. You can use the manufacturer's suggested software, Ableton Live, to link any sound to any button, but it can be done through GarageBand, too.
Overall
The Midi Fighter 3D is an impressive piece of equipment. It feels very sturdy, and even in inexperienced hands, it's pretty fun to slap the buttons rhythmically.
If you're looking for a new hobby to take up while you're responsibly socially distancing, we can't recommend the Midi Fighter 3D enough.
Where to buy
If you're interested, you can head over to DJ Tech Tool's site, where they sell the Midi Fighter 3D for $219. They also sell the Midi Fighter 64, a 16-by-16 button version for those who want a larger sound bank, for $500.
Small size makes it a great desk companion
Sanwa switches have a long lifespan
Responsive LEDs
Does not feature a wide range of mappable control buttons that other pads have
No internal memory, must be played through a Mac or PC