A second-grader has landed himself in the emergency room after accidentally swallowing a Christmas gift —an AirPod.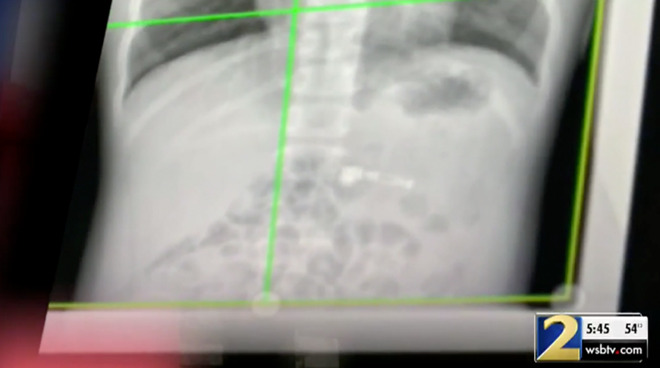 Image Credit: WSB-TV Channel 2 News
A Georgia mother reports that her son had accidentally swallowed one of his AirPods, prompting her to rush him to the emergency room. The seven-year-old had received the AirPods as a Christmas gift along with a new iPhone.
"He said he was holding it in his mouth by the long end," Kiara Stroud, the boy's mother, told Atlanta's WSB-TV Channel 2 News.
The X-ray shows that the AirPod is clearly still in his stomach, sitting just below his rib cage. Stroud couldn't believe that her son had swallowed the wireless earbud.
"First of all, he was very nervous. He thought he was going to be in trouble," Stroud told reporters. "We just kinda assured him that it's okay."
The doctor at Children's Healthcare of Atlanta at Egelston didn't know what an AirPod was, and was said it was a unique case. Despite the lack of knowledge about the product, doctors went on to assure both Stroud and her son that the AirPod would pass on its own and that he would be fine.
The son raised concerns about the AirPod connecting to his iPhone if he were to get too close.
"He was like, Mom. I don't want my phone,' because he got a phone for Christmas as well, and he's like, I don't want to be near my phone. I don't want it to connect to my phone and start playing music,'" Stroud said.
Stroud hopes that other parents will be cautious when giving AirPods to their kids, as she never anticipated her son would swallow the AirPod.